Dear friends,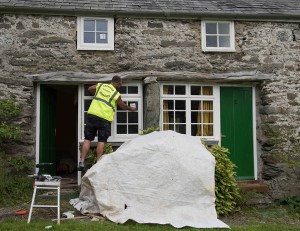 I'm pleased to announce that at the end of July we had all the windows replaced in dorms, A, B, C, E and F for double glazed ones.
They do look very nice and have been matched to retain the look of the older, traditional ones. The new windows mean that the whole site is up to standard and the rooms should now be warmer and draft free. Also the extra insulation should help us to reduce our massive annual heating bill, which even if only a little would be helpful.
The work to replace these windows has been slow to implement due to a severe lack of available funds. However due to the extreme kindness of two of our regular supporters we were able to complete this work and also to start work to upgrade our showers and other areas of the center. I will be posting news on these other developments soon.
In addition to helping us pay for this much needed work our two supporters have also been extremely helpful in advising and supporting us to kick-start a fundraising drive. Vajraloka strives to keep the costs of the retreats held here as low as possible in order to enable as many as possible to join retreats. However, this means that over the years we have very little extra money to pay for much needed development and expansion work.
If you are interested to help Vajraloka to continue to grow and develop and continue to benefit people  then please look at our Supporting Vajraloka page on this site for ways to support us.
In the meantime, with all best wishes
Bodhananda