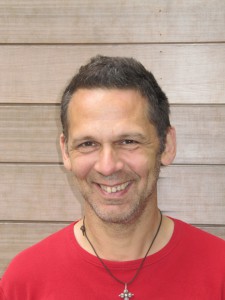 I first met Triratna-Buddhism about 20 years ago in Amsterdam, when I was 35 Years old.  I felt that meditation was very important, even central, to my life.
I continued going on retreat regularly, while at the same time engaging in other aspects of life. By which I mean I was a care-worker, drama-teacher, speech-therapist, and a father.
Gradually I became more involved with the Triratna-movement in Holland and Belgium, especially with our retreat-centre, Metta Vihara, and the centre in Ghent.
I finished my studies in philosophy early 2013, and continue to be inspired by philosophy, especially ethical philosophy. I find the combination of philosophy and practicing the dharma highly stimulating and fruitful.
In September 2013 I moved to Vajraloka, to engage more with meditation and with the Triratna movement. I am very happy to be able to live here, and hugely enjoy the beauty of Wales and all the walks I can 'make'. Cooking for large groups and living in a community are challenges that I also enjoy, and I like being a host to all the people that come here on retreat.
I was ordained in 2016.
Silavadin