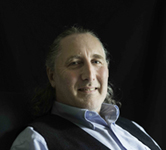 I became involved in Buddhism at the Brighton Buddhist Centre in the summer of 1983 having spent the previous few years traveling.
I was ordained in an old monastery in Tuscany in 1986.
I was involved in Buddhafield in its early years and became Mitra Convener in Brighton. This was a real honor and a delightful challenge to be so intimately involved with people practicing the Dharma. After 13 years I had an intuition it was time to move on, and go deeper in a different way.
I then spent 7 years at Padmaloka retreat Centre, and moved to Vajraloka in February 2014.So far, I'm enjoying living in a community of men who are trying to live out the Dharma as fully as we dare, and communicate it to others.
Jinapalita