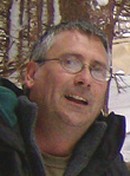 I am one of the Cook here, and also do some of the administration, notably the book keeping, and various other bits n bobs. I have been here since June 2008. Even after all this time, for me quite a feat, (as I've had a nomadic life it seems), I still feel like I have very much landed in the exact right place at the exact right time.
The community here is  friendly and supportive, and allows me enough space to explore the nature of my being in an understanding environment. The landscape is much more beautiful than I first envisaged and the weather just reminds me each day that I'm thankfully not in the city.
My latest news is that I'm looking forward to getting ordained out at Guhyaloka during the 2015 course. Who knows what or who or not I will or won't be then, then.
Latest News: On the 4th May, 2015, in the Guhyaloka valley in Spain, Ian had his public Ordination into the Triratna Buddhist community and received the name, Padmadasa from his private preceptor, Prakasha