Whilst most Vajraloka events happen at our retreat centre in North Wales, we also visit other Triratna centres around the UK and further afield to lead day or evening events and sangha retreats. Outreach work has been an important part of what Vajraloka offers for many years. Taking to the road helps us stay in connection with local centres, hear what people issues and interests with their meditation and Dharma practice are, and offer our teachings and perspectives more widely – especially for those who, for whatever reason, are not able to come to Vajraloka.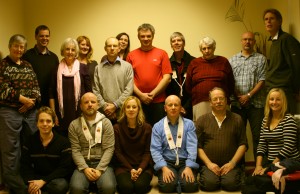 Balajit has just returned from being on the south coast, where he led three evening workshops, for people from the Southampton and Winchester Sanghas (see photo). Within the framework of the Triratna system of meditation and the four foundations of mindfulness, the workshops explored different perpsectives on the basic practices. Each evening also investigated the ways we project concepts onto our immediate sense experience and how this gives rise to unnecessary suffering and confusion.
Tejananda recently led a weekend event at the North London Buddhist Centre on the Triratna system of meditation. On this he explored deepening and 'customising' our practice of the mindfulness of breathing and metta bhavana, and ways to engage with insight practices around the theme of the three marks – impermanence, unsatisfactoriness and not-self or insubstantiality.
More outreach events are already planned for 2012 and beyond.