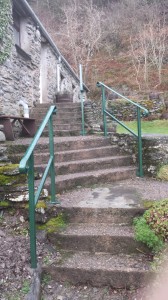 For all of you who are familiar with retreats here in the wetter or colder months, which to be honest can be pretty often. You'll be pleased to know that we have just had installed quite robust but pleasing handrails around all of the outside steps.
This is something which we have been planning to do for some time as the steps can be quite slippy in wet or icy weather.
I have been very busy over the year with finding suitable contractors to carry out the work to our budget. This week I am pleased to have just finished painting them all, so you should feel a lot safer on the steps, especially at night.
best wishes                  Bodhananda